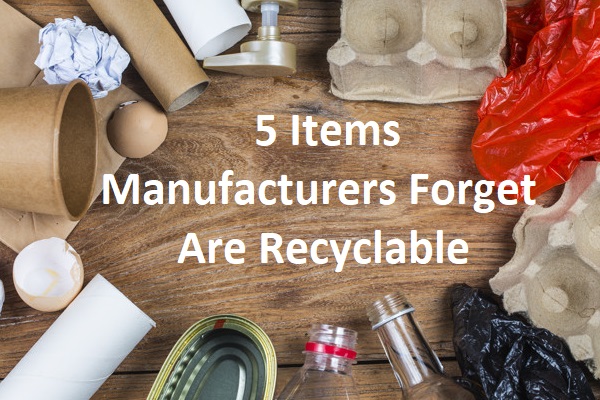 5 Items Manufacturers Forget Are Recyclable
As a national recycler with locations in Tennessee, Georgia, Texas, Illinois and California, iSustain Recycling has a huge experience of working together with manufacturers and businesses to improve their bottom line on a way of becoming zero waste companies. During this time we've determined some commonly forgotten and neglected recyclables. Here are 5 things found in several producing waste streams manufacturers forget are recyclable.
1. Packaged Food Waste
Are you a food producer or distributer? If so, you likely have experience the sad realty that not all packaged item serves for last sale. Consequently, it's common to see packaged food in making waste streams. However this need to not be going to land fill. Also packaged, food waste is recyclable. Depending on the product packaging kind, there are processes for de-packaging the food waste before recycling, as well as in some cases it is possible to recycling the packaging with the food.
 2. Super Sacks and Bulk Bags
Super sacks are actively used in many industries due to their strength, durability, reliability, and eco-friendliness. However, to keep bulk bags sustainable, companies and manufacturers should be cognizant about reusing and recycling. This could enter your waste stream as leftover packaging material as well as can be recycled easily.  A selection of new products can be made from the bulk bags, as the recycling process could be repeated again and again since polypropylene can be safely recycled many times. Likewise, if your bulk bags remain in good condition, they could be sold for reuse.
3. Slip Sheets
If you are a manufacturer, you possibly have pallets laying around your facilities. Slip sheets are the thin pieces of cardboard-like product that rest in between pallet layers when they are piled with each other for shipment. These are easily recoverable and need to be recycled with one of your cardboard or paper streams (depending on the sorting procedure in place at your facility).
4. Cardboard Cores
Label paper, kraft, vinyl, and numerous various other materials utilized for packaging come on spools, wrapped around cardboard cores. Just like slip sheets, cardboard cores also could be reused as a paper asset. However, it is not a quick and easy procedure to collect the cardboard cores as they are not very compactable. That's why, the best idea is to talk with your recycler to figure out the most effective approach for collecting these at your facility.
5. Reusable Boxes
Chances are, you probably already recycle corrugated. But have you ever heard about the other type of box which is considered more valuable when collected for reuse due to its special quality?  If your facility produces big amounts of the same size box, you can be marking these for reuse. Initially, make certain these boxes are in relatively good condition. After that cut any kind of tape that might be holding package with each other and make it flat by collapsing it right into its original state. As soon as flat, you can pile your multiple-use boxes together on a pallet for shipping.
These are just a couple of usual waste items you could be missing out on in your waste stream. Just like all recyclables, access to outlets might differ depending upon markets as well as the quality of the materials being reused. To understand the most effective ways to collect items for recycling is for sure contacting the experienced and professional  recycling service provider  – iSustain Recycling. 
As waste experts to a variety of industries, iSustain is able to provide not only recycling services but a waste removal programs that fit the specific needs of various types of customers.  Would you  like to get professional advice from the top recycler? Then contact us!