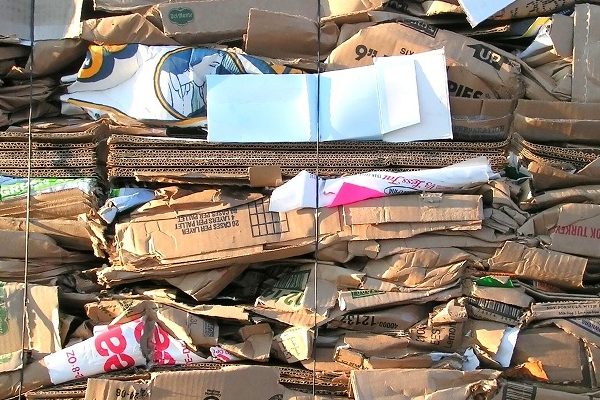 Cardboard Baling Or Bundling?
Cardboard and paper are the most common material to recycle, especially for distribution centers, large retailers, printers, manufacturing facilities and various other areas where it is generated in huge amount. So it goes without saying that it has to be successfully handled and recycled.
There are numerous means to deal with the big quantities of scrap cardboard and paper, but the most common are bundling, compacting or bailing.
Very often we are asked to estimate the "baled" cardboard– just to discover the product is truly only "bundled", and not baled. The point is, that packed cardboard is actually simply a stack of cardboard or paper that has to be appropriately baled before delivery to a paper mill.
Bundles vs bales – what's the difference?
Bundles of cardboard are merely piled and strapped or tied. This way to recycle cardboard is often done manually, but it shouldn't –  because of varying sizes and thicknesses, it is difficult to figure out how to manage the boxes most efficiently.
Baled cardboard has been pressed by a baler into a bale that usually weigh about 900-1200 lbs.
Why bale cardboard?
Baling is performed for 2 factors. The initial is to earn the most effective cost of handling and storage space of the baled paper. Empty cardboard boxes contain a lot of air and being densely baled you can get up to 10: 1 of the volume reduction.
The 2nd is products price. Each tractor trailer load of cardboard or paper being shipped to a mill for recycling has a transportation expense attached. This expense could vary commonly– determined by the distance from the recycler to the last destination. The distance might range from 150 miles to the other side of the world.
By having the ability to fill the maximum amount of legal weight right into each trailer or export container– the  cost of products per ton is kept to a minimum.
What equipment is needed to bale your cardboard?
Facilities that decide to bale typically have adequate warehouse, ample storage area as well as flooring for an equipment and  for the finished bundles. It additionally needs labor– as the baler should be filled and the bundles connected and after that saved. (Automatic balers are available for higher volume generators, which can be instantly fed and bales tied.).
If a center does not have adequate flooring or storage space then compacting is the next alternative. Commonly a stationery compactor is put outside a structure, as well as the cardboard or paper is tossed into a hopper or through the wall surface chute. A hydraulic ram after that compacts the material into an attached container.
This compactor container is then removed and delivered to a recycling facility, such as iSustain Recycling — where the cardboard or paper is then baled.
Compacting is a really reliable and budget-friendly way to process cardboard and also paper, nonetheless it does not lead to as high a financial return to the customer, as the recycler is the one in charge of the baling, and also has to recover this cost.
If you have concerns regarding recycling your cardboard or paper, please call us.