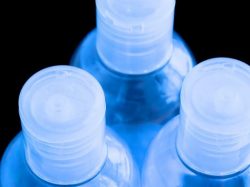 Industrial Recycling of Plastic
It is almost impossible to imagine manufacturing without using plastics since the 1930s, when The Second World War gave excellent opportunity to find the substitute for products like rubber, which were in short supply. Today, one of the most used materials for US industrial and commercial life are plastics on account of volume. (learn about the history of plastics here)  Therefore, they are just one of the largest areas for industrial recycling. Here are some ideas for enhancing your company's industrial plastic recycling.
According to the type of plastics
Plastic is a broad term, which is used to explain a vast variety of artificial or semi-artificial organics. Event hough all plastic is recyclable, you have to recycle it in accordance with its specific chemical structure, or polymer type. In order to make this process easier, plastic producers  have applied RIC – a numeric resin identification coding system. Probably, you noticed the sign with the chasing arrows  and a number 1-7  around them placed on the bottom of almost all plastic containers. These symbols are suggested to help to recycle plastics by determining 7 usual polymers (resins):
Polyethylene Terephthalate (PET or PETE)
High Density Polyethylene (HDPE)
Polyvinyl Chloride (PVC)
Low-Density Polyethylene (LDPE)
Polypropylene (PP)
Polystyrene (PS)
Other
Taking into account that not all plastic products contain resin codes, these products can still be reused. If you have a big amount of a particular plastic product to recycle, but do not know its polymer kind, however have a big  just contact your recycling professionals. They are able to clarify how to collect as well as sort that product for recycling.
Common Recyclable Items Made of Plastic.
Usually, when one thinks about "plastic recycling", this person only imagines plastic water bottles as well as drink containers. But the opportunities for commercial plastic recycling go much beyond common food and drink product packaging materials. Here's a list of common plastic items that can be recycled:
LDPE Film (stretch wrap, sheet film, clean plastic bags)
PET Pallet Banding
Big Bags
PP/PE Packaging
Kraft Poly-lined Bags (the poly liner is usually recyclable plastic while the kraft is paper)
Plastic Drums and Buckets
HDPE Belting and Tooling
Various PPE Gear
Possibilities are, if your company buys external supplies, you might have some type of plastic waste from packaging materials. An excellent method to much better understand your firm's possibilities for plastic recycling is to adopt your own waste audit.. Nevertheless, because we understand that companies are always expanding as well as transforming, we are able to carry out an initial waste audit. To find out just how iSustain Recycling could help your business in maximizing your industrial plastic recycling, contact us today.
Best Practices for Industrial Plastic Recycling.
Whether you've been reusing plastic for many years or your firm is just beginning to carry out a plastic recycling program, below are some best practices we've established for improving the process of industrial plastic recycling:
Separate materials by their type and value – Plastic must be recycled by its chemical structure or resin. While some recycling companies suggest you numerous collection choices, mixing your recyclables cuts their value and also can affect any kind of refunds your may receive. If you just don't have enough place for such sorting options, it is best to deal with your recycling company to know exactly what amount of plastic types your firm creates and also which plastics will give you most money when sorted separately.
Source dividing – This means collecting a particular sort of materials directly at the area where that item ends up being waste. For instance, if your production center has a product packaging line that creates a certain kind of plastic waste, resource dividing would certainly suggest gathering that plastic material at the packaging line. Source dividing is a great mean to keep important recyclables away from cheaper items without a need to implement an additional sorting procedure.
Remove contamination – Unfortunately, it is not always possible to clean every plastic item, so taking time to remove as much contamination as possible could raise the value of your plastic recycling streams. Taking this action to boost the quality of your plastic recyclables will certainly improve your partnership with your recycling company.
Buy a baler (or other compacting devices) – One excellent aspect of plastic is that it is really light. Nevertheless, reusing rebates are commonly based on weight, and industrial plastic recycling materials usually are not in their most dense type. This suggests that when you collect plastic for reusing, you also collect a lot of air. Do you actually wish to pay for transportation and recycling of air? If not, you must take into consideration investing in equipment, like a baler, which will certainly compact your recyclables before transportation. This is a great deal to add some space. We have actually seen business save lot of money by baling their recyclables as opposed to paying to deliver loose products. Consider how much cash your company can save for transportation expenses by baling your plastic.
These are simply a couple of best techniques for commercial plastic recycling. For even more ideas on the best ways to optimize your company's waste and also reusing program, think about calling us today. This will not only save the nature, but your money too!