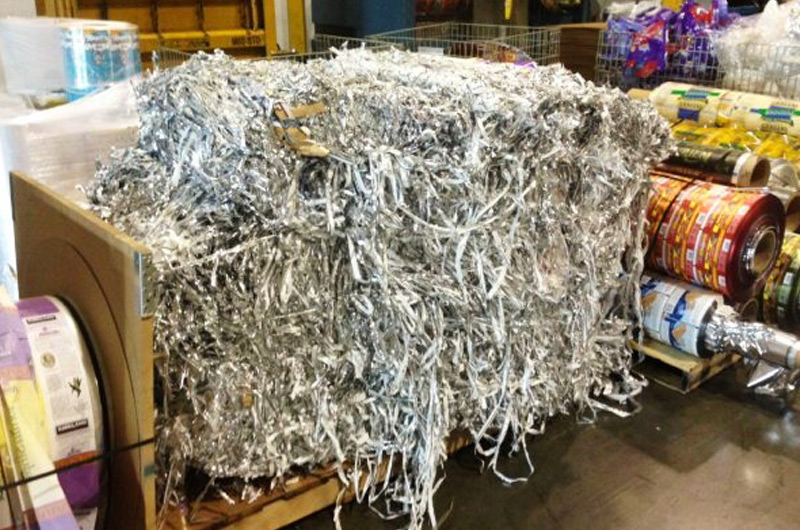 Part 2: iSustain Addressing the Challenges of Multi-material Flexible Film Packaging
Photo caption: This is what the scrap looks like as we receive it in roll, slab, and trim form. Manufacturers of the printed film generate a certain level of scrap as they print and covert the material for their end customer.
Multi-material Flexible Film Packaging Presents Unique Challenges
Multi-material flexible film packaging continues to grow in demand in the United States as more products appear on local grocery and retail store shelves. Such flexible packaging combines the best qualities of plastic, film, paper, and aluminum foil to deliver a broad range of protective properties while employing a minimum of material. However, the complexity of flexible packaging, being multi-material waste, makes it a challenge to recycle.
Single polymer materials are easier to efficiently collect, recycle, and incorporate into manufacturing of new products. Mechanical separation of base materials with laminated film processing is often not possible. No real technologies exist to process the most common laminates used in food packaging such as polyethylene laminated to polyester. The difficulty of separating the various material makes it much less financially viable to recycle, so it is more likely to end up consuming space in a landfill.
Flexible film manufacturers need solutions to these difficult problems. The good news is that iSustain has developed Creative Recycling solutions for many of these challenges. As an example, for the last 5 years we have successfully recycled upward of 250,000 lbs. a month of polyethylene/polyester laminate film waste. It is a proprietary process, after the material has been extruded, to recycle it into commercial applications. Identifying a unique end use application was the key to recycling this material and solving this unique problem.
Additionally, iSustain can provide fossil fuel replacement applications for this challenging material, using it as fuel in kilns to replace coal for heating and drying. We've successfully used upwards of 500,000 lbs. per month as a fuel replacement for several years. iSustain has given "new life" to these waste products that have generally been considered "non-recyclable landfill waste."
Finding creative solutions to improve the viability of materials for recycling is what iSustain is all about.
Our process involves analyzing waste types, then looking into recycling processes and finances to improve landfill diversion and financial return. Our dedicated team works to develop a tailored solution based on waste audit data from each client's unique situation. If you'd like to know more about the ways iSustain is addressing the challenges of multi-material flexible packaging and helping our clients reduce costs and eliminate landfill waste, call us at (423) 668-0111 or email us at [email protected].