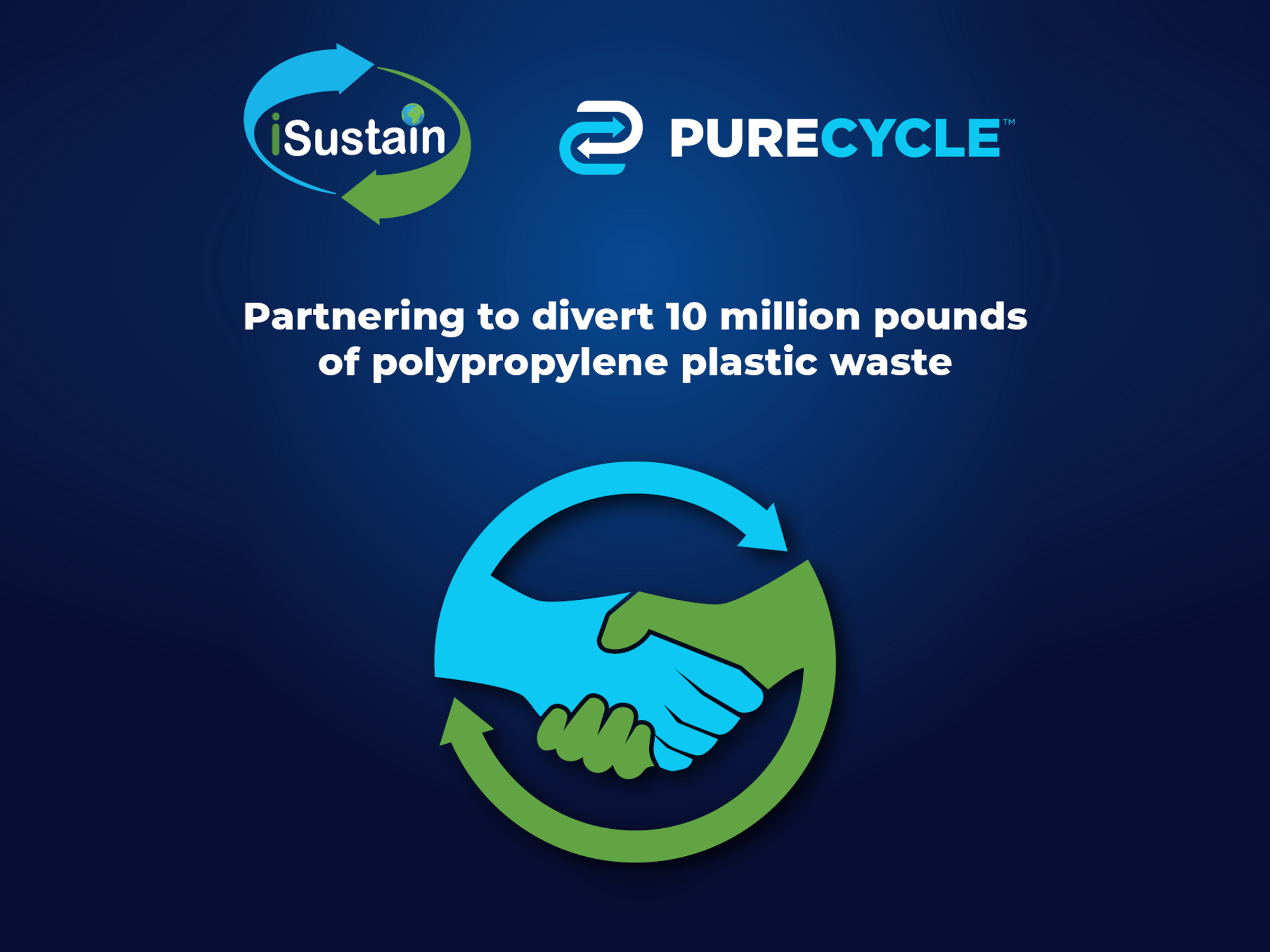 Up to Ten Million Pounds of Feedstock to be Provided to PureCycle Technologies
We are proud to announce iSustain will be supplying PureCycle Technologies with up to ten million pounds of plastic feedstock (primarily post-consumer polypropylene plastic waste) which PureCycle will then convert into high-quality recycled polypropylene.
"This agreement is evidence of a great partnership that continues to flourish. In 2022, we teamed up with iSustain to bring sustainable recycling practices to the Plastics Recycling Conference. This deal, however, will have a lasting impact far beyond a single week event. With iSustain's expansive network, we can use our patented recycling technology to grow beyond curbside materials and also achieve circularity with other polypropylene waste materials." – Dustin Olson, PureCycle's Chief Executive Officer 
Extraction and Filtration Combine to Produce Ultra-pure Recycled Plastic
PureCycle's patented recycling process uses a solvent-based purification technology to remove color, odor, and other contaminants from recycled plastic, resulting in a clear, odorless, and high-quality resin that can be used in a wide range of applications. The process can even remove dyes and pigments from plastic, making it possible to recycle colored plastics without sacrificing the quality of the end product. 
This exceptional method has been designed to effectively remove various contaminants, colors, and odors from polypropylene (No. 5) plastic waste, giving it a new purpose as an ultra-pure recycled (UPR) resin. This resin is also capable of being re-purposed multiple times due to its ability to retain purity despite numerous uses.
"PureCycle is a game-changing solution for polypropylene plastic waste. Their technology is creating new recycling markets for previously unrecyclable plastic waste. All our customers want to divert more of their plastic from landfills and meet their sustainability goals. PureCycle offers our customers the opportunity to meet their goals and achieve true circularity while doing so." – Mark Huber, iSustain Recycling's Vice President of Business Development
Environmental Results We Can Count On
According to a report by the World Economic Forum, around 8 million tons of plastic waste end up in the world's oceans every year, and by 2050, there could be more plastic in the ocean than fish. PureCycle's innovative recycling process, as well as advanced recycling as a whole, have great potential to limit the waste leaking into our waters. 
With our help, PureCycle can now ensure a steady supply of plastic feedstock to help accelerate the transition to a circular economy where waste is reduced, reused, and recycled. By partnering with PureCycle, we can offer our customers another closed-loop solution for polypropylene waste, ensuring that it is recycled into high-quality resin rather than sent to a landfill or incinerator.
A Sustainable Future Built Together
Our collaboration with PureCycle Technologies offers an incredibly promising solution to No. 5 polypropylene waste. By leveraging the patented recycling technology developed by PureCycle, and our expertise in plastic waste management at iSustain, a broader range of polypropylene waste materials are accessible for circularity. Our combined resources allow us to expand beyond just curbside materials. This groundbreaking partnership stands as a testament not only to collaborative innovative capabilities, but also to the evolution of sustainability in our world today.