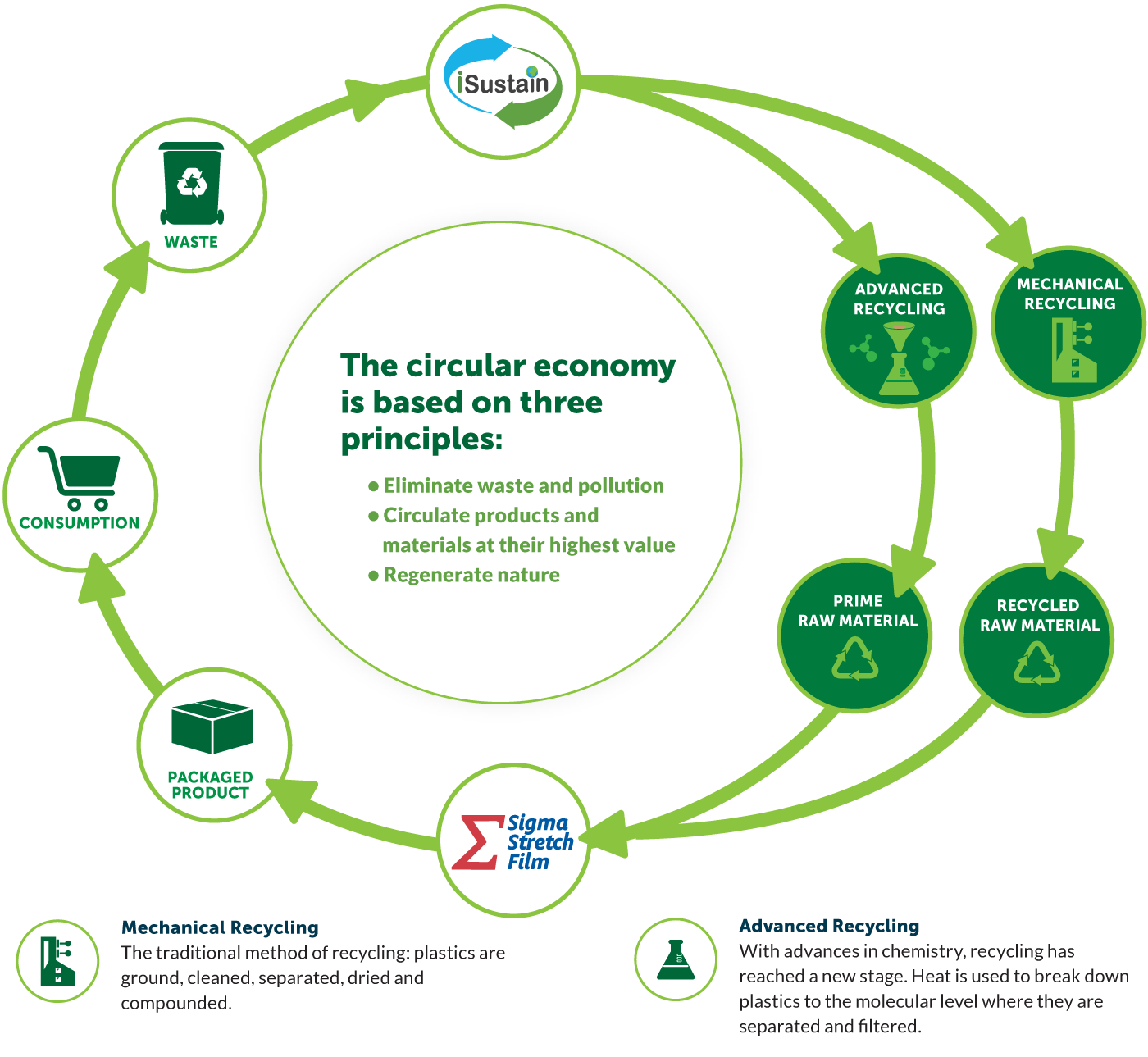 Sigma + iSustain: Creating a Circular Economy
We often forget how much we rely on plastics in our everyday lives – single-use plastic items, in particular. If these aren't recycled, they can create long-term environmental damage. Every year we create about 2.12 billion tonnes of waste, which is abetted by the fact that 99% of the stuff we buy each year is thrown out within 6 months. In this year alone it is estimated we have already dumped over 10 million tonnes of plastic into the ocean
We all need to do our small part in preserving the world around us. A collaboration like ours with Sigma Stretch Film reminds us that sustainability is always attainable.
What is the Circular Economy?
In our current economy, we take materials from the Earth, make products from them, and eventually throw them away as waste – the process is linear. In a circular economy, by contrast, we stop waste from being produced in the first place.
The circular economy is based on three principles, driven by design:
Eliminate waste and pollution

Circulate products and materials (at their highest value)

Regenerate nature
It is underpinned by a transition to renewable energy and materials. A circular economy decouples economic activity from the consumption of finite resources in our earth.
Why now – What is driving the circular economy?
Now is the time to grow the circular economy. You may ask yourself why now or what is driving this change.  Here are the factors:
Climate Change – the need for action to halt global warming is now.

Business Profitability – Waste diversion activities can yield significant positive financial results.

Consumer Awareness and Activism – A growing awareness of environmental crises has sparked a wave of interest and activism among consumers who are now voting with their dollars.

Sustainable Development Goals (SDGs) – SDGs are driven by the United Nations Agenda of 2030 and numerous Corporate initiatives.

National Regulations and Policy Changes – Governments are introducing guidelines and regulations that align with circularity in areas such as energy conservation, waste reduction, and reduced consumption.
How does the Sigma + iSustain Partnership create a circular economy?
iSustain and Sigma Stretch Film's customers, distributors, and other distributor's clients with all the tools and resources they need to integrate a recycling process for Sigma's stretch film goods as well as any other plastics, paper, or other potential waste materials they may produce. Since its inception, this has been the Sigma + iSustain partnership's goal.
Some of the steps we take to drive circularity
We apply Traditional Mechanical Recycling technologies with new Advanced Chemical Recycling Methods
Advanced recycling methods and mechanical recycling are employed in a circular economy. This means two create new raw materials using conventional techniques and cutting-edge technologies to generate materials that will never be wasted.    Historically, stretch film and other plastics have been used to make new products like plastic lumber.  With our partnership and services we can
Mechanical recycle post-consumer stretch film to make clean plastic pellets to make stretch film again

Through Advanced Recycling, we can chemically recycle and break down stretch film into its original molecular form so it can be used again to make stretch film and other plastics.
Provide Sigma Stretch Film's clients with circular strategies.
We will develop a custom plan with Sigma Stretch film customers that integrates the organization into the circular economy. Plans like these increase customer satisfaction, comply with pending and future legislation and enhance profitability. Top brands such as Apple and Amazon recognize this.
"Whether it's using more recycled materials in our products, or transitioning our supply chain to 100 percent clean energy, there is no part of Apple this work does not reach." –  Lisa Jackson, Vice President of Environment, Policy & Social Initiatives at Apple
Reduce environmental impact and better the client's image.
The circular economy we've created together lessens the amount of newly sourced materials from the Earth.  So many of today's products are manufactured by exploiting natural resources from the Earth, which are then discarded. The purpose of the circular economy is to eliminate waste by developing recycled raw materials via cutting-edge recycling processes.
Lessening an organization's environmental impact creates a positive impact on consumers, regulatory organizations, and your own employees. With this positive change, Sigma Stretch Film customers become more appealing to today's consumers and thus increase in value.
"If you want to improve your brand standing and you want to make a clear communication around sustainability, talking about what you're doing on plastics and your plan for managing plastics packaging and recycling, is a winner. It's a winning message and it will help people feel more positively about you." – Suzanne Shelton, President and CEO of Shelton Group
Join Sigma and iSustain in the fight.
Sigma Stretch Film's partnership with us at iSustain provides recycling and waste diversion solutions to their entire customer base. We look forward to the future this will create for all involved. For a more comprehensive picture of the advantages of recycling your stretch film or other goods, and the positive influence it will have on the environment, read more about the Sigma + iSustain collaboration here.